Granola with Yogurt: How to Eat Granola with Yogurt?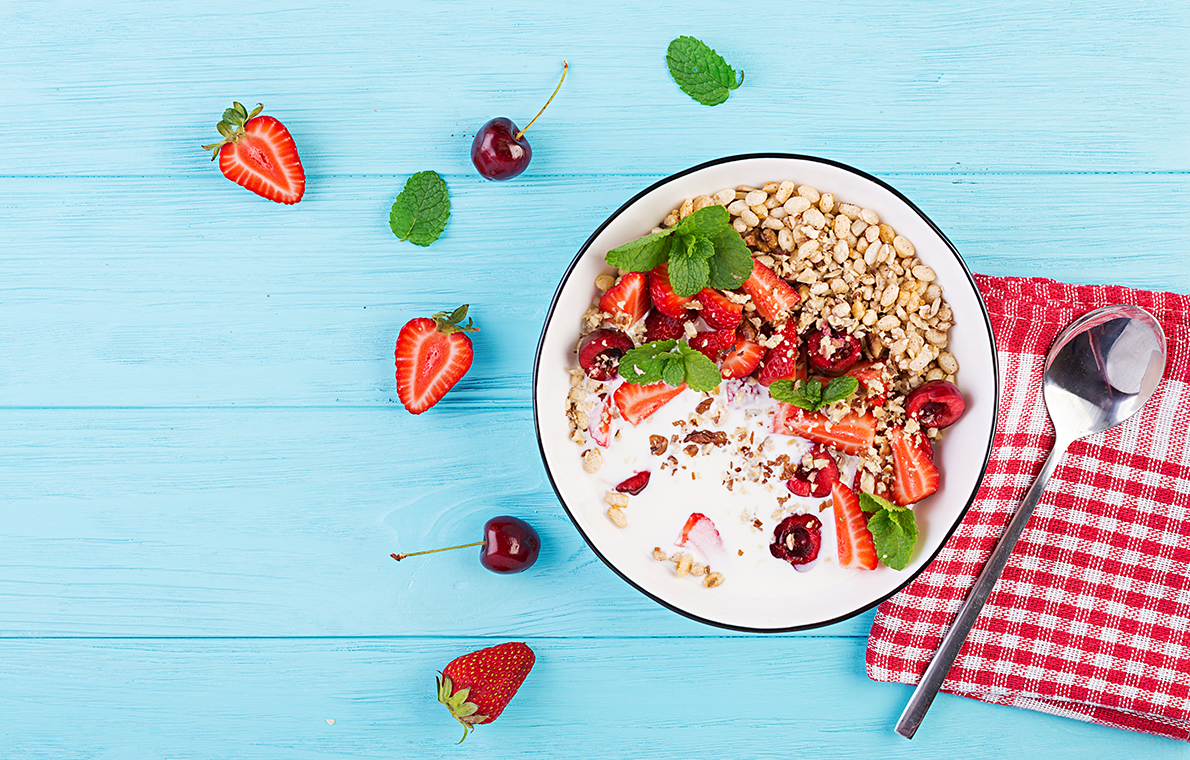 Granola with Yogurt Recipe
Every morning needs to start with a bang! And these Granola & Yogurt Bowls do just that. So yummy, so delicious, and they each only take about 5 minutes to make!
A distinct thought put as much colorful fruit in there as possible. Even though that means using less of each item. Instead of serving one type of fruit and one type of nut, create your breakfast bowl with lots of different types of colorful fruit and nuts/seeds!
All You'll Need: Ingredients
Fit n Flex Granola comes with its goodness of taste and nutrition. For this granola, all you'll require is your favorite classic granola mix, almonds and chia seeds for crunch, coconut flakes for richness, or as per your taste. Coconut sugar for sweetness, yogurt provides the required calcium and protein intake, and other toppings if needed.
Ingredients
Granola mix
Yogurt
Nuts and seeds
Stevia or other sweeteners
Instructions
You can get as creative as you wish with these Granola & Yogurt Bowls. To make the perfect taste of granola with milk, mix the ingredients. Granola is a go-to food among the health-conscious and food-lovers alike. The mouthwatering blend of sweet, dried fruits (and sometimes chocolate), salty nuts, and crunchy oats makes for a satisfying snack any time of day. How to make the delicious delight?
In a bowl, add some yogurt.
Add natural sweetener according to your taste.
Add the Fit and Flex granola to the bowl of yogurt.
Stir the breakfast mix.
Serve for breakfast or Soak overnight and serve for breakfast.
Benefits Of Granola And Yogurt
The creamy texture of yogurt combines delectably with Granola's crunch and the burst of flavor. While there is no official yogurt and granola diet, eating the two together or separately while dieting is a wise choice. Both provide different nutrients, and lower-calorie versions of each are available.
Good Source of Calcium
Excellent Source of Protein
Provides Good Bacteria
Improves Your Sleep Quality
Brings an Excellent Source of Fiber
Yogurt contains calcium for strong bones and teeth, as well as satisfying protein to help build muscle. This helps you power through the day. Granola is a healthy food because of its simple ingredients. The oats provide fiber to keep you regular, while the nuts and seeds provide protein and heart-healthy unsaturated fats
Related: 5 Benefits Of Yogurt And Granola
Begin your day with a nutritious & refreshing breakfast. Eat Granola as a snack to munch on or whenever you desire.
Granola is the most popular and super healthy breakfast cereal. It can be included in a variety of diets. Fortunately, there are numerous varieties, mixes, and flavors to choose from. Our delicious assortment of Granola includes oats, multigrain crispies, rice puffs, pumpkin seeds, dried fruits, sugar.
Want to add this to your diet? Order Fit and Flex granola online.