Awesome Granola Sesame Laddu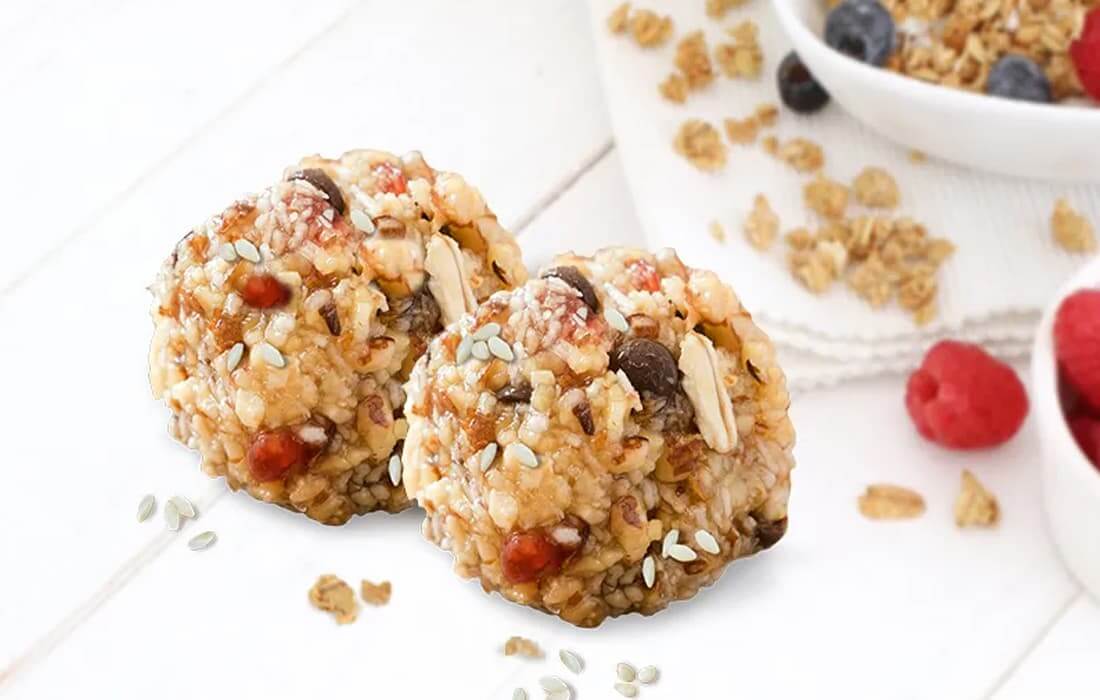 Your taste and nutrition ka sphere is here! Crunchy and munchy Granola sesame laddus that give you an awesome tasting dose of energy and taste. Mann mein laddoo phoota?
Ingredients:
1 pack of your favourite Fit & Flex Granola pack
1/3 cup sesame seeds
1/4 cup roasted and crushed peanuts
1/4 cup desiccated coconut 1/2 cup jaggery
1/4 tablespoon cardamom powder
Directions:
Heat a kadai on low flame roast the sesame seeds in it for 2-3 minutes. Stir at intervals. Keep aside.
In the same pan, add the desiccated coconut. Stir continuously while roasting the coconut. Roast the coconut till it becomes light golden or golden. Switch off the burner. Add the roasted coconut to the roasted sesame seeds.
Add the roasted, crushed peanuts.
Next add the cardamom powder. Mix well. Keep aside.
Add Fit & Flex granola to the mix. Stir well.
In the same pan or kadai, take the jaggery. Add 3 tbsp water. Keep the kadai on the stovetop on a low flame. Keep on stirring the jaggery till it dissolves. On a low flame simmer this jaggery and water solution. It will start bubbling first. You have to continue to heat till you come to a soft ball stage in the jaggery solution. Keep stirring continuously.
Switch off the flame and add the mixture of sesame seeds, desiccated coconut, crushed peanuts and cardamom powder with the jaggery solution very well.
When the mixture is still hot, begin to form the sesame laddus from it (Take care). Spread some oil in your palms to form the laddus.
Your delicious Fit & Flex Granola laddus are ready to enjoy!
Our recommendation:
Do shape the laddu when the mixture is hot. if the mixture cools down, then the granola laddu does not take proper shape. Store in an airtight jar at room temperature.